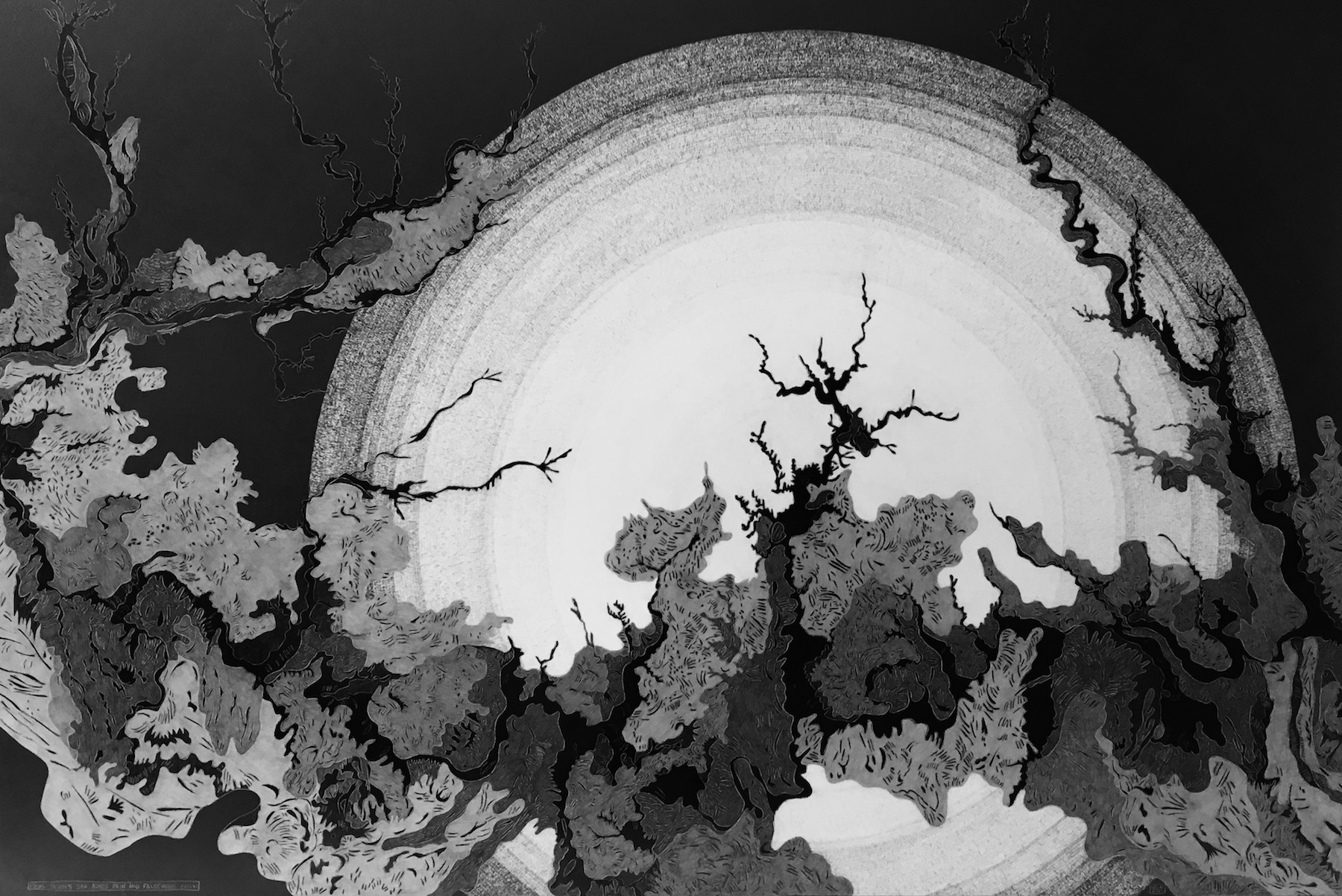 Statement
My work is primarily inspired by how we use and interpret our planet, chronicling the visible scars and manipulations of the earth as seen from above. Previously my work focused on environmental issues, geologic changes over time, and coinciding conspiracy theories, however; my more recent work takes new flight, delving into the interior life of the self. Inspired by physics, specifically fractals and chaos theory, I am interested in investigating the ubiquitousness of similarity and predetermination in the universe by exploring how it relates to emotions on the human level. Our environments, and our selves, find a delicate balance between chaos and order, a balance I seek to interpret through my graphite works of the natural world.

Each piece is made on clay panel, meticulously layered with graphite. The result is a buttery smooth and metallic surface with intricate and subtle details much like we find in everyday life if only we take the time to look. My recent aerial waterscapes appear solid and dark yet fluid and sparkling, creating a new environment in which we can meditate upon the tribulations and ecstasy that comprise our lives.
Biography
In 2006 I quit my job as an art appraiser at Bonhams and Butterfields Auctioneers to stay at home with my newborn son. The many years of viewing and handling a vast and diverse amount of artwork that cycled through the auction house transformed how I thought about creating. Feeling rejuvenated and inspired by motherhood, my long hiatus from drawing came to an end. Having been educated at Kutztown University of PA (BFA - Drawing) and Pratt Institute (MS Art History) I have been able to combine my love of both theory and practice in my daily work.
Learn more about the artist at www.christineweir.com
Read "Truth's Sad Ashes: The Drawings of Christine Weir" an interview with Scott Gleeson.