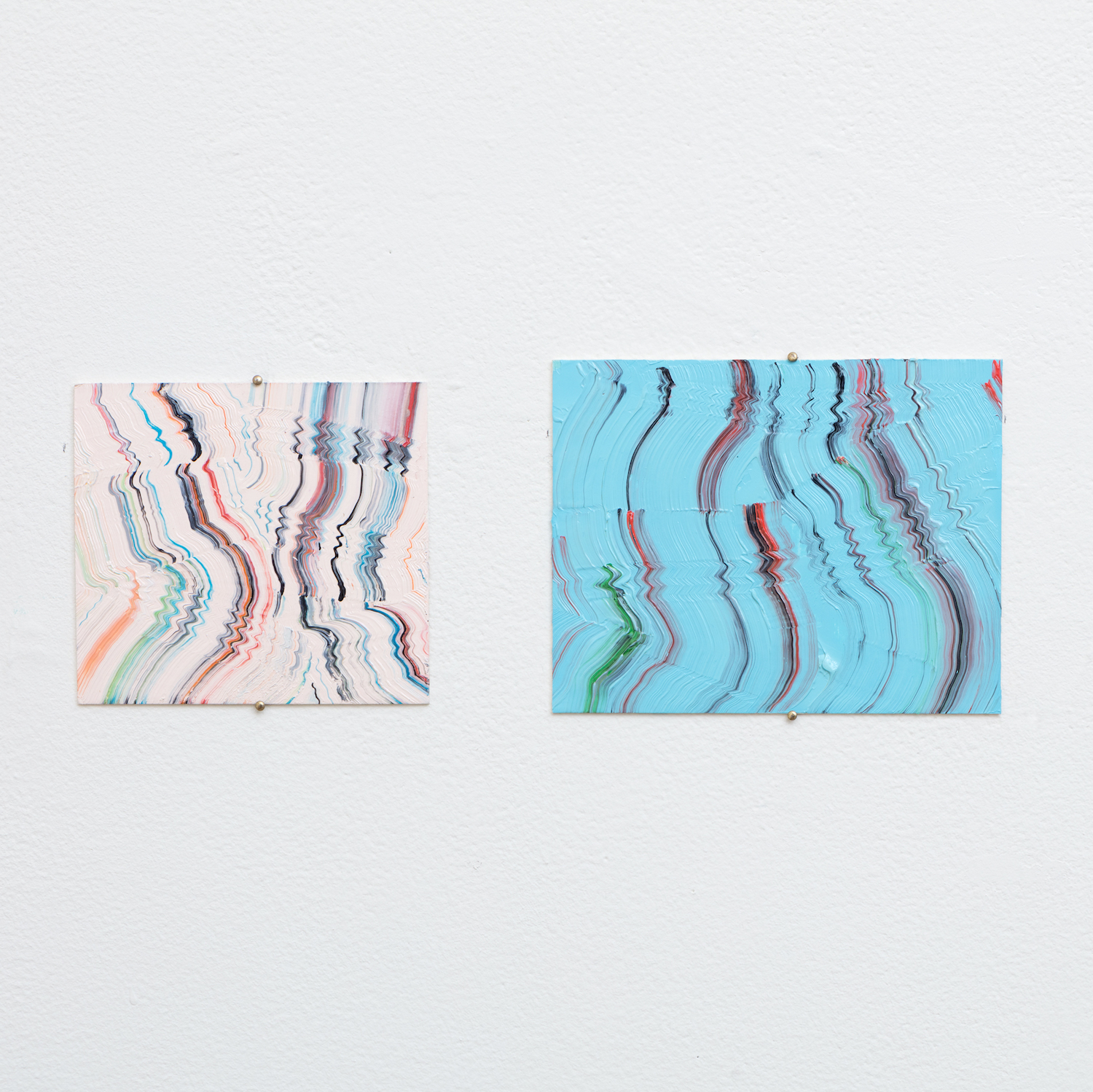 Statement
My paintings, though distinctly abstract, tend to suggest waves of sound, light or seismic activity. They evoke the natural world while acknowledging the technology that measures or records it. Referenced also is the interaction with contemporary culture and the traditions of Modern Painting. The paintings are carefully planned in regard to palette and process, although the predetermined systems do allow for a large degree of improvisations. Many on-the-spot decisions are made, with results that form a strange blend between the appearance of spontaneity and the appearance of control. The paintings unfold as I make them – at times surprising or confounding my expectations. The idiosyncratic techniques of applying paint make the work feel painterly and at the same time feel meticulously rendered. I am interested in the actual physical properties of the paint, the plasticity of the medium and the painting as an object. I brush on, blend, and drag thick oil paint in wet-on-wet technique using various hand pressures, rhythms and speeds of movement producing pulsing multi-hued abstractions from a single unified paint film.
There are intended references from a variety of sources as well as some that tend to develop on their own. One reference comes from the world of textiles. When I was in high school in Philadelphia, where I was raised, one of my first jobs was in a textile factory. I was in charge of replacing empty bobbins into 12 industrial mechanical looms that were constantly spitting out used bobbins. I would run from one loom to another loading bobbins of different colors and thread types. I would also see the relationship between thread on a bobbin and thread that is woven into the produced fabric. My paintings have in part been influenced by this type of energy and also how color is "woven" into my paintings.
My drawings relate to the process of living my life as an artist. These drawings expose my thinking process in both a visual and written manner. The Index Card Drawings and List Drawings are examples of this endeavor. I am interested in redefining for myself what a drawing can be or should be.
The Index Cards Drawings started as a behind-the-scene activity that I have done since the 1980s. Each painting I make generates from 2 to 12 cards. These drawings reveal predominantly studio lab notes for my paintings as well as journal entries that include questions on what I am investigating and other mental notes. The cards themselves are custom-made and archival. The lines are printed on Strathmore paper, the holes are cut out and the paper is cut to size. The text is written with a crow quill pen and the actual oil paint used in the paintings is used to record colors and compositions.
Biography
Vincent Falsetta is a Texas based artist who was born and raised in Philadelphia. His parents immigrated from Italy in the 1940s. He received his MFA in Painting/Drawing from Temple University's Tyler School of Art, Philadelphia and Rome, Italy in 1974 where he studied with artists Stephen Greene, David Pease, John Dowell and Richard Crammer. In 1972, he received his BA in Art from Temple University and worked with John Wade, Dennis Adams, Neil Kosh and Don Lantzy. After teaching at Indiana University, 1974-1975 and the University of Utah, 1975-1977 he moved to Denton, to teach at the University of North Texas, 1977-2017. He is now Professor Emeritus and lives and works in Denton as a full-time artist.
Falsetta's work is included in the permanent collections of the Philadelphia Museum of Art, Houston Museum of Fine Art, Brandywine Workshop, Philadelphia, El Paso Museum of Art, Art Museum of Southeast Texas, Tyler Museum of Art, Tyler, Texas, and Sheldon Swope Art Museum, Terre Haute, Indiana.
Falsetta's work has been featured in over 50 solo and 350 curated or juried group exhibitions, including: The Texas Biennial 2013, Blue Star Contemporary Art Museum, San Antonio; Full Spectrum: Prints from the Brandywine Collection, Philadelphia Museum of Art, 2012; Slow Magic, The Bluecoat, Liverpool, 2009; Modern Rhymes, Art Museum of Southeast Texas, solo-show, 2007; Texas 100, El Paso Museum of Art, 2006; Museum of East Texas, solo-show, 2003; Committed to Abstraction, Austin Museum of Art, 1997; Art Patterns, Austin Museum of Art, Laguna Gloria, 1997; Field of Vision, El Paso Museum of Art, solo-show, 1996; Galveston Art Center, solo-show, 1996; Museo Italo-Americano, San Francisco, 1991; Dallas Museum of Art, 1984, 1978. In addition, he has had 4 solo-shows at the prestigious OK Harris Gallery, 1986-1996, NYC.
Falsetta is represented by Conduit Gallery, Dallas, Anya Tish Gallery, Houston, and Sherry Leedy Gallery, Kansas City.
Photos courtesy of the artist and Conduit Gallery. Photographer: Kevin Todora