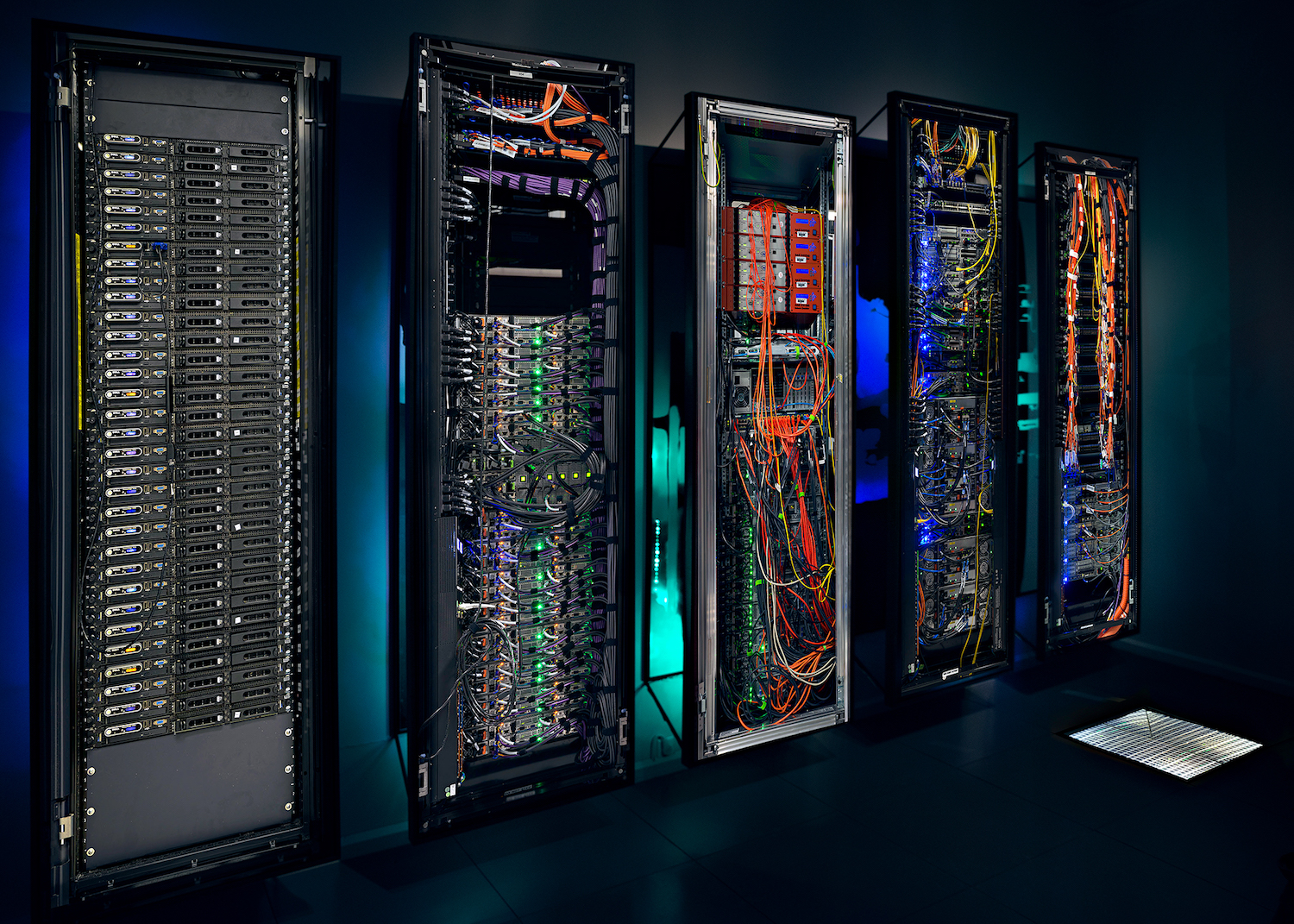 Data Shadows
Digital surveillance is one of the most critical sociopolitical issues we currently face, and is one with profound aesthetic dimensions. As our daily lives become increasingly mediated, connected and transparent, the trails of information we leave behind as we traverse the Internet have come to represent digital extensions of our identities. These digital identities, or "data shadows," have significant effects on our relationships to large institutions, our social interactions, and our daily experience, yet we remain only vaguely aware that our personal data is both a part of us and simultaneously hidden and beyond our control. The project Data Shadows offers a symbolic gesture of "counterveillance" - an attempt to illuminate the locations of our data, and use photography to peer back into the apparatus of digital surveillance on a global scale. I have traveled extensively to build an archive of the largest data centers around the world. Through both interactive installations and traditional photographic output, the resulting imagery shows enormous exteriors alongside frenzied interiors, exposing the complexity of activities taking place within these inaccessible compounds. At this unique moment in history, I am committed to conducting further research and producing visual material that aims to blur the boundaries between our physical and virtual selves, and probe the relationship between the public and its data.
Slow Light
Slow Light (2012-present) is a series of photographs addressing the phenomenon of afterimages – the latent imagery that remains on our retinas after we look at the sun or at bright objects in the dark. Using handmade artificial retinas that register the remains of light, I am able to simulate an essentially unphotographable visual experience.
Afterimages have a transgressive quality that appeals to me. They appear when we use our eyes in ways that we shouldn't – by staring at something too bright or holding our gaze for too long. When I first moved to Louisiana, I was struck by the appearance of oil refineries at night, which looked like strange forbidden cities. Soon after I started to photograph them, I was stopped by the police and told that refineries are indeed "unphotographable" according to post-9/11 regulations. This experience heightened my interest in them as photographic subjects.
Keeping a low profile, I began to systematically document refineries up and down the Mississippi River, using the afterimaging camera to render them as ghostly, mysterious constellations of light marked by unearthly color shifts. For me, these images evoke both a presence and an absence. They are points along a continuum between strict representation and subjective abstraction, or between our immediate visual reality and the decaying, remembered imagery that subconsciously shapes our perception.
Biography
AnnieLaurie Erickson was raised in a commune in Nebraska and currently lives in New Orleans, Louisiana. She is a member of the Antenna collective and serves as the Director of Photography at Tulane University. Her work has been included in exhibitions at the Goethe-Institut, DC; Higher Pictures, NYC; Newspace Center for Photography, Portland, OR; the Ogden Museum of Southern Art; the Contemporary Art Center New Orleans; and the Elizabeth Foundation for the Arts, NYC. Her work has been featured in publications including Daily Serving, Feature Shoot, Lenscratch, the Washington Post, Afterimage, and Foam Magazine.