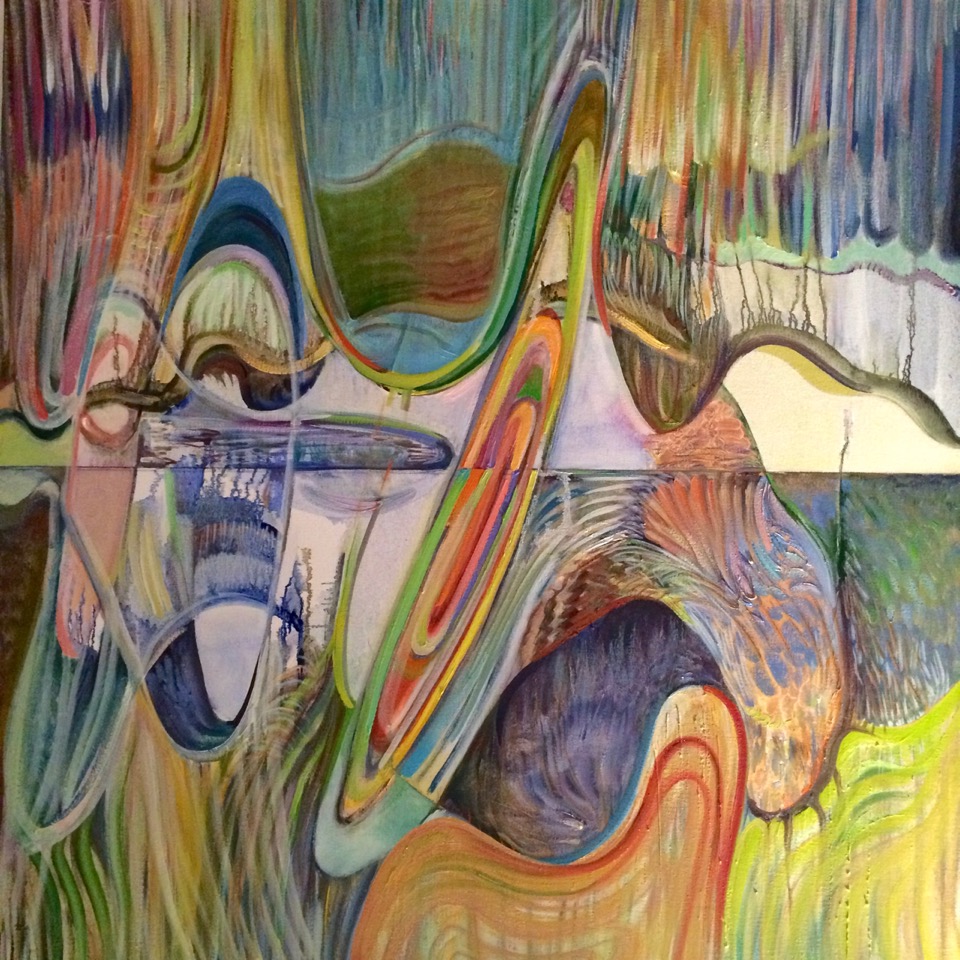 BIOGRAPHY
I am a multi-media artist concerned with the fundamental psychic relationship and identification that occurs between the human observer and the natural world. Through a hybrid process combining drawing, painting, and video projection installations, I create colorful, large-scale installations that intimate the enigmatic forms and relationships found in nature. A recent move to Pittsburgh prompted a return to the medium of painting and a reconsideration of the landscape of my childhood memory.
I have held artist residencies at schools and institutions including MASS MoCA's Kidspace and The Fuller Craft Museum in Brockton, MA. I collaborate on my projects with diverse audiences, including children, teens, adults and the homeless. My objective is to inspire individuals with wonder for the simple complexity of the natural world that surrounds us.
I am a 1998 graduate of the School of the Museum of Fine Arts Boston Studio Program. Prior to that I studied drawing and painting at the Lyme Academy in Old Lyme, CT. I've received grants in support of my work from such institutions as the Massachusetts Cultural Council, the Berkshire Taconic A.R.T. Fund, the St. Botolph Club, the Target Foundation and Citibank. In 2009 I was nominated for the ICA Boston Foster Prize.
STATEMENT
I create personified landscapes inspired by my own embodied experiences of space and synesthetic phenomenology of color. My work posits a notion of the landscape painting as a portrait—entity as terrain. I use video and paint to trigger visceral recognition of unknown places. My recent relocation to Pittsburgh is a return to the landscape of my childhood. The steep hills, verdant green overgrowth, industrial decay and winding promise of the rivers are deeply imprinted in my imagination.
I am intrigued by the interaction between the landscape and the psyche. As living things, we are shaped by the land where we are born and by the lands where we live our lives. As creatures with language, we attach emotional and symbolic meaning to landscapes of spectacular sunrises, brooding skies, and majestic mountains. I am interested in the extent to which what we see in the landscape mirrors our interior state of mind.
Liminality, a threshold between two conditions or states of being, is an important metaphor in my paintings. Motifs of mountains, water and clouds become characters for my exploration of Form/Formlessness, Time/Timelessness, Stasis/Flux. I think of my paintings as existing in the liminal space between waking and dreaming.
My process oscillates between the algorithmic and the stochastic. I often utilize an underlying set of rules to initiate a work; however, resolution of a piece is both emergent and intuitive. I am very interested in exploiting the physical properties of my medium. Complex color and vibratory color relationships are also primary concerns. I like to think of the parallels between color and music, light waves and sound waves, and am agitated when a painting that I am working on does not sound quite right. For me, there is almost an audible snap when the color is resolved.
My most recent work the Ground Figure series investigates the mutability of meaning by solving the painting along two axes: along a horizontal center line (landscape format), and along a vertical axis (portrait format). With a 90-degree clockwise or counterclockwise rotation of the canvas, the ground transforms into figure—figure dissolves into ground. This change in orientation of the canvas invites interpretation of the work from varied perspectives.
The MindForms series is a second ongoing body of works on paper inspired by anonymous Rajasthani tantric meditation paintings. The quiet power of these paintings has compelled me to seek to create my own exploration of this method.
Learn more about the Linda's work at www.pricesneddon.com
Follow the artist on Instagram @pricesneddon