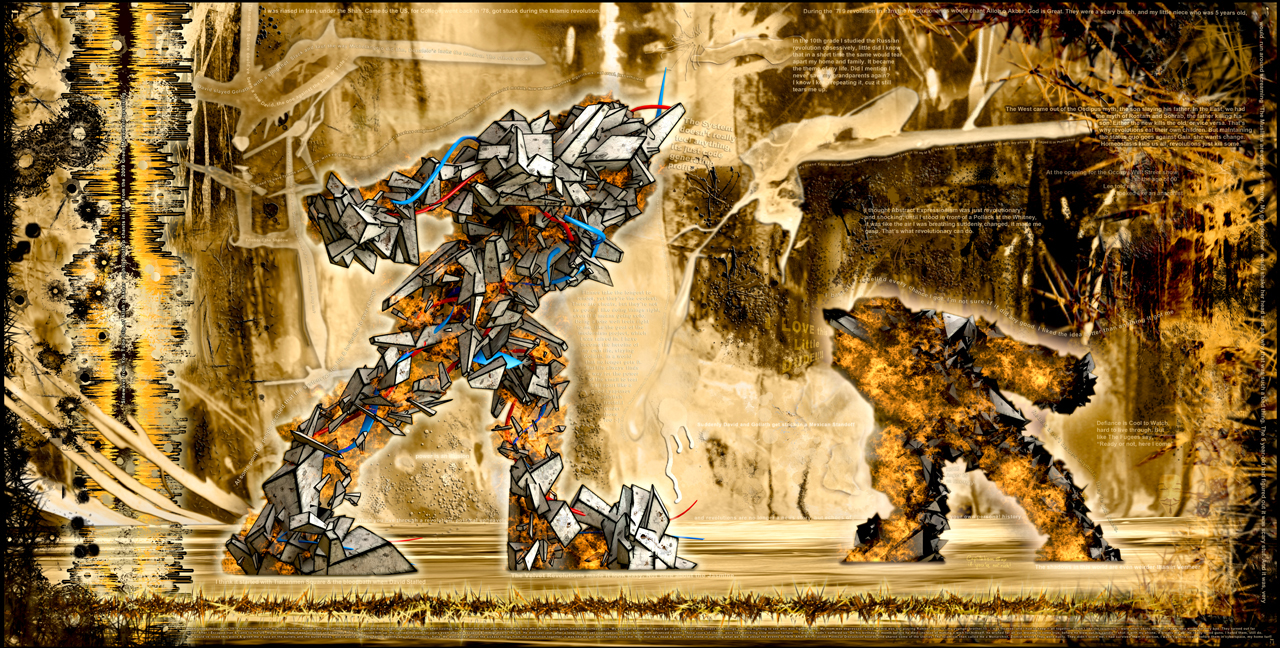 Biography
Marjan Moghaddam is an award-winning, pioneering, New York City-based computer artist and animator, who works with 3d CGI for print, animation, interactive, virtual reality and performance. Her work has been exhibited extensively at various international galleries, museums and festivals, in addition to curated exhibits at the Armory Show in NYC and Art Basel Miami. In recognition of the groundbreaking and significant nature of her computer art, Ms. Moghaddam's work has been an official selection of the prestigious international Siggraph Computer Animation Festival and Computer Art Gallery a total of 4 times. Ms. Moghaddam is a recipient of grants such as Rockefeller Fund, NY Department of Cultural Affairs, Brooklyn Arts Council, and the Experimental Television Fund. She was the featured performing artist for the Visual Music Marathon, and is listed in the Internet Pioneer Hall as one of the first 100 artists to post Gif89a animations on the internet. Her digital art is privately held in various private and institutional collections and an official selection of many film and video festivals. She is the recipient of numerous awards of excellence for her work and is originally from Iran and immigrated to the US as a political refugee in 1979. She is also a full, tenured professor of Computer Graphics and Animation at the Brooklyn campus of LIU.
Marjan's most recent collection uses Motion Capture of improvised performance applied to her signature 3dCG Digital Bodies in virtual worlds, tackling the political, global, Feminist and cultural issues impacting the Fourth Industrial Revolution and late stage Capitalism. Hailed as a "trailblazer" in the digital art world by the Herald Tribune, and the "First lady of Animated Painting" by the Examiner, her signature digital bodies represent a new style of figuration in the Post Millennial era, representing what she calls our physical disruptions and Neohumanism.
Statement
I am a pioneering and award-winning digital artist and animator who works with 3d computer graphics, virtual reality, and related technologies. I am actively engaged in redefining form for painting in the Post Digital era, for me painting is a pictorial composition that can be still, animated, interactive/videogame, or even virtual reality. My work employs a pictorial and textual narratology that explores the critical themes and disruptions of the Fourth Industrial Revolution, and the tensions inherent in late stage Capitalism and the Anthropocene, from income inequality, corporatism, Islamism and Feminism to climate change and the marginalization of Humanism. Many of my pieces embrace a nascent new Collectivist Humanism inherent to this new century. I have pioneered many of the novel aesthetic, formal, and technological processes that I employ in my practice as a woman working with high technology, both commercially as a production artist, and also as an exhibiting gallery artist since the 1980s. I am also a Tenured, Full Professor of Computer Graphics and Animation at the Brooklyn Campus of LIU, who immigrated to the US as a political refugee from the Islamic republic of Iran.

Since 2008 I have been creating and exhibiting a collection of new media paintings using motion capture of improvised performance applied to figures and virtual worlds that I model in my own style. I describe my figures as "digital bodies" because they are not bound by the rules defining physically-based, contiguous forms; as such they define the emergent aesthetic and philosophies of virtual reality and the embodiment of datafication. My characters can be made of energy, fire, or made from machined or cubic parts as hybrids indicating the transference of our identities and lives to digital substrata, or as spheres, depicting our physical and organic nature, suggesting both the material and the digital..