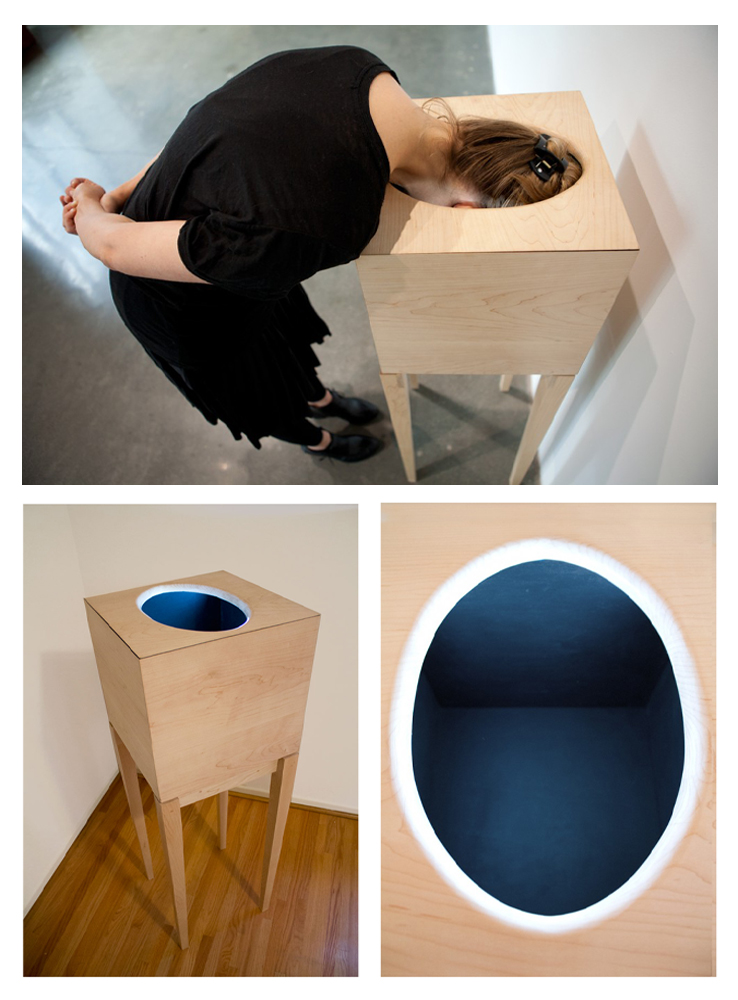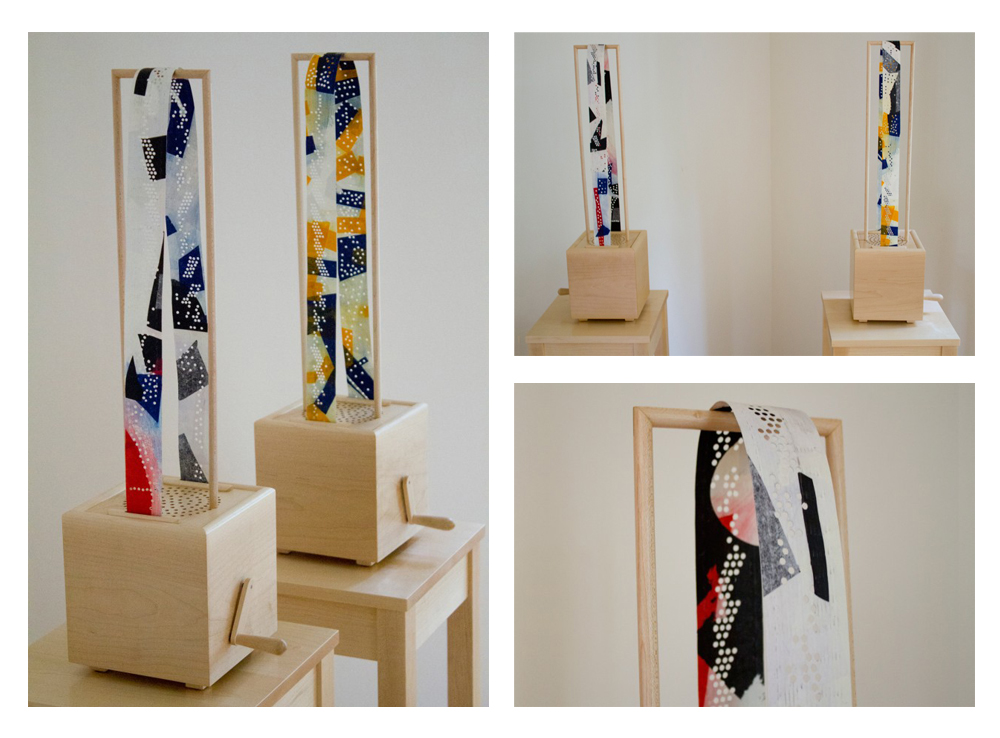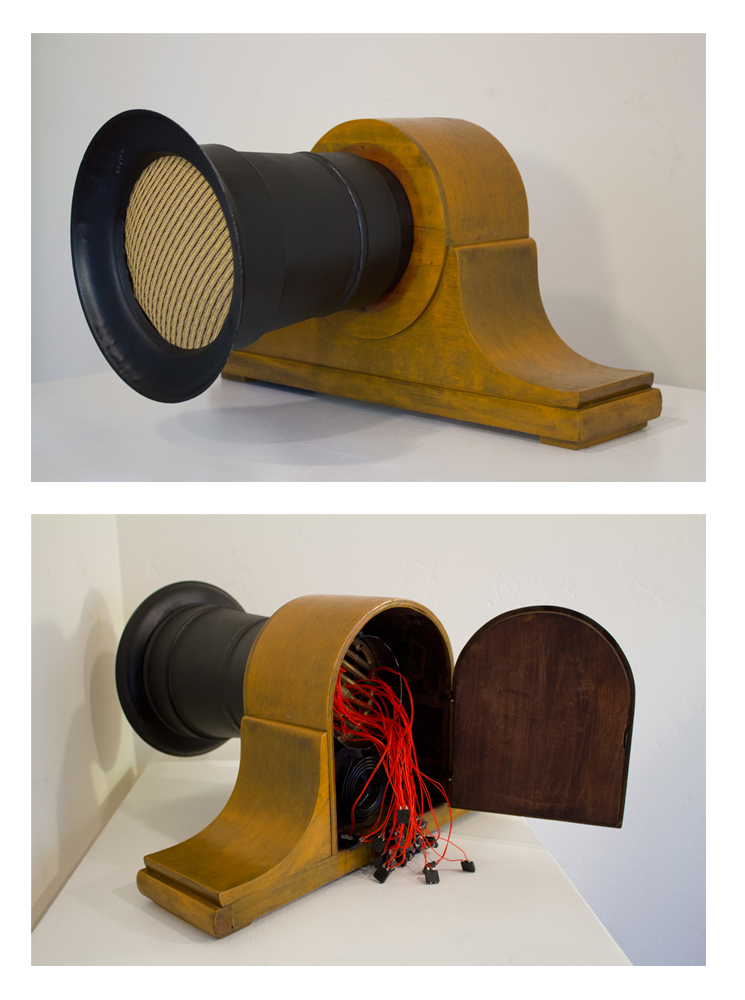 Statement
I create interactive sculptures with multi-sensory experiences layered in sound and gesture. I design these sculptures with a diverse array of materials using archetypal and experimental forms. I inhabit these shapes with electro-acoustic sounds and tactile controls so that they come alive with intimate, participatory moments. Through visual, sonic and kinetic interplay, I seek to provoke questions about contemporary identity and human relations. Specifically, I incorporate public and private histories from the narratives left behind by families, media archives and technology. I play with time travel as I move between generational influences, historical myths and the future.

My ongoing artistic research in this body of work is titled, Conduits. Through informal archeological investigations, Conduits capitalizes on the challenges of memory, perception and gesture. These works are designed to immerse audiences in artifacts of public hierarchies, private traumas, miscommunications and conflicted identities. These ideas are invoked by tactile gestures and ephemeral sonic moments. As animated objects, these sculptures transform space and place for participants as they navigate their own comfort levels, the sounds they perceive and the relationship between these ideas. This interplay between the various media and the participants' responses emerge as spontaneous narratives told through relational aesthetics. For example, in my work, I Long to be Free from Longing, I present a collection of intimate sounds embedded in a traveler's suitcase and inspired by Frederick Holderin's poem, "All the Fruit." In this suitcase, a series of boxes lay waiting to be touched and heard with the invitation to covet things that aren't there. In my music box sculptures, What Was, What Is, What Is Not and A Score for Conversation, I use various tonal sound patterns controlled by interactive paper loops to explore unnoticed histories and unresolved communications. In my pieces, What Lies Beneath and Head in the Sand, I offer audiences a chance to explore social anxiety through light, sound and duration.

For all works, there are many access points that create unique and personal time-based experiences. These moments shift and vary with each participant's interaction. I am exploring how we understand meaning and context through our experience of interconnected media. I am interested in creating personal moments in public places. Ultimately, Conduits questions the reliability of material objects in ephemeral spaces.
Biography
Born in Texas and raised in California, Margaret Noble's experimental artworks have been exhibited nationally and internationally. Her interdisciplinary work resides at the intersection of sound, sculpture, installation and performance. She holds a BA in Philosophy from the University of California, San Diego and an MFA in Sound Art from the School of the Art Institute of Chicago.

Noble's work is influenced by the beat-driven dance culture of southern California which flourished during the 1980's and later led her to perform as an electronic music DJ in the underground club community of Chicago. In 2004, she branched out from the dance floor into experimental sound art for new audiences which intersected the electronic sound scene and the visual arts community. During this transition, Margaret created sound works for collaborative projects in video, dance and object theatre. Her artistic works have now evolved into sculpture and installation influenced by interests in memory, history, narrative, and identity. Noble's work has been featured on KPBS, PRI, Art Ltd Magazine, Wired Magazine, San Diego Union Tribune and the San Francisco Weekly. She was awarded the International Governor's Grant, the Hayward Prize and the Creative Catalyst Fellowship. Her artistic residencies include the MAK Museum in Vienna and the Salzburg Academy of Fine Art. She has had solo exhibitions at the Museum of Contemporary Art San Diego and at the Ohrenhoch der Geräuschladen Sound Gallery in Berlin.
Learn more about the artist at www.margaretnoble.net