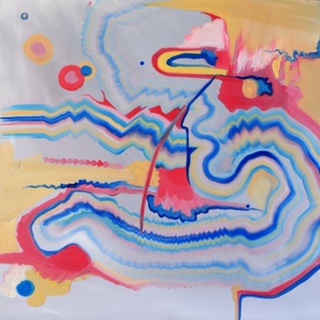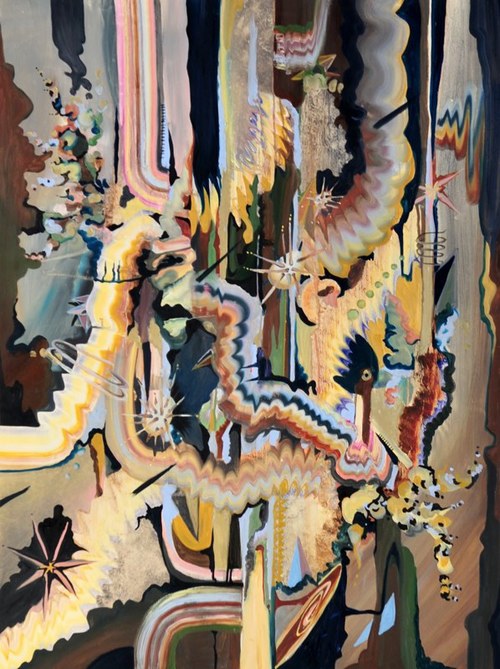 Biography
Kelsey Anne Heimerman was born to a family of artists in 1990. Her mother, (a master glassblower), and her father (a master carpenter) encouraged her painting at a very young age. Her formal education began in summer art camps for the talented and gifted, private preparatory schools and led to her to the painting and drawing program at UNT.

Using a brush and wood panel as her means of exploration, Heimerman spent the last eight years in her painting studio, which was typically the living room of her single bedroom apartment, experimenting with different mediums, colors, compositions and working out her ideas to create the unique style displayed in her colorful works. Using nature as her muse and the chaotic city life as her subject matter Heimerman began to create her own stories that mirror contemporary society, though the eyes of a young, delicate, modern woman.
Statement
Currently at age 26, Heimerman seeks to explore the art world on an ambitious scale. Now she is painting larger than ever. For Heimerman her painting is a lifestyle. Her creative outlets are not defined to painting alone but also include sculpture, fashion design, commercial design, interior design, printmaking, drawing, digital painting and illustration. Submission to the art world allows for creative windows of her inner psyche to be explored and refined. By allowing this energy to bleed into all aspects of Heimerman's life she creates an authentic, bold, colorful perspective that unveils truths of the contemporary world. This process and obsession is the exploration that Heimerman is after, the ability to create works of art that captivate the viewer and send them into a metaphysical space, where the heart softens and the mind wonders. Through her focused study of color, composition and pattern making her individual perspective is poured out into the world through paint. Using one of a kind compositions Heimerman is a mirror of contemporary society, reflecting people of all race, culture, ideologies, and space. Skin tones become fractured, animals appear to be a pop cubist style portrayed in contemporary spaces and patterns that are both vivid and inundating.

Heimerman continues to share her work in traditional and non-traditional spaces with the purpose of art being accessible on a variety of platforms.
Learn more about Kelsey's work at www.kelseyanneheimerman.com
Follow the artist on Instagram @seekelseypaint